2012 International CES
When: Tuesday, January 10, 2012 through Friday, January 13, 2012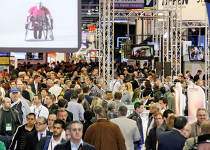 BootCamp Interviews from the 2012 International Consumer Electronics Show (CES)
Thursday, February 02, 2012
Is 3D TV catching on?  Panasonic says yes 3D capability is being built into many TVs…but you'll have to pardon consumers if there hasn't been all that much excitement about it.   There just hasn't been all that much compelling 3D content to watch.   But some TV makers are doing their best to change that...
Read More...
3D, Panasonic, Tsuyuzaki, TV, Olympics, gadgets, tech, gear
Wednesday, February 01, 2012
   More new tech for sending content from your smartphone to a TV No wires and no special boxes are required for taking what's on your smartphone and showing it on a connected TV.   That's the promise of a company called ShoDogg where president Michael Rinzler says…"It's also completely portable.   So...
Read More...
ShoDogg, Rinzler, mobile, TV, gadgets, tech, gear, CES
Tuesday, January 31, 2012
More smartphones and tablets mean more demand for flash memory With smartphones and tablets taking the place of computers for many consumers….people want to put more stuff in them…music, photos, videos and more.   So capacities are growing.   That's good news for flash memory maker SanDisk, where CEO...
Read More...
SanDisk, flash, Sanjay Mehrotra, memory, tech, CES, SD